A lovely friend gave me the new GBBO book for my birthday, and this week I have christened it. In other words I have tested a couple of recipes and covered the appropriate pages in smudges of butter and splodges of egg. Whilst I am not a particularly messy baker I can't deny that my cookbooks are a touch grubby. You can spot my favourite recipes as the pages of the book will be stuck together. So my lovely new, shiny Bake Off book is a little less pristine now that I have baked both the strawberry and white chocolate cake and the chocolate crackles.
The book is laid out well with different categories to reflect the themes of each episode of the show. It is full of useful technical tips from Mary Berry and Paul Hollywood, and makes for a pretty good read. I would have liked to have seen more pictures of the food as a lot of the recipes are not illustrated. It is usually the photo of the finished product that inspires me to bake something, so for me the book is lacking a little here.
The two recipes I tried were both successful. Unfortunately the strawberry and white chocolate cake was demolished before I could take any pictures, but I will be making it again some time so will post pictures then. I also was looking for something easy to bake with my daughter, and picked out the recipe for chocolate crackles. These are not to be confused with chocolate rice crispy cakes (or chocolate crackolates as we called them), which I believe are known as chocolate crackles in Australia. These are chocolate biscuits coated in icing sugar that crack during cooking to reveal the dark chocolate inside.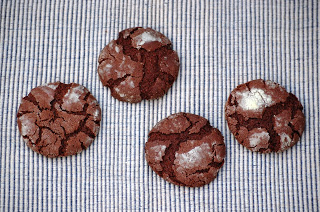 These were delicious and very moreish! It was a great recipe to bake with Evie as there was plenty she could do. She also loved the way the little balls of powdered dough changed shape during cooking to become pretty, cracked biscuits. We will definitely be making this one again as well. Next though, I think we will try one of the bread recipes or maybe Holly's delicous looking cheese and onion pie.