We spent half term by Lake Orta in Italy, with lots of family, celebrating my mother-in-law's 70th birthday. The weather was mixed but the ice cream was consistently fabulous. Violet and yoghurt turned out to be a surprisingly good flavour combination, and the amarreto biscuit one was a bit special too. Our lovely week in Italy ended on a bit of downer when we returned to the airport car park in driving rain, only to find that my husband had left the car lights on for a week. This led to a prolonged spell playing Top Trumps with the kids whilst we tried to get the battery fired up again.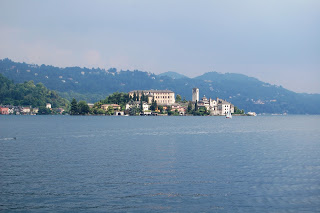 As soon as the kids were back to school and nursery I got stuck into an order for 350 cake pops. Luckily my poor sister was visting so I had a helping hand. The order was for a large corporate event being held at One Mayfair, a rather splendid old church just off Oxford Street. The client had engaged the services of Brian Olsen, a performance artist who paints huge canvases using lots of primary colours. He paints to music, using his fingers, elbows, arms and up to three brushes in each hand. To reflect his colours, I made vanilla cake pops covered in white chocolate and decorated with squiggles of red, blue and yellow Candy Melts. I prefer using chocolate to cover my pops as it tastes so much better, but Candy Melts are great for coloured details.
The cake pops were displayed around the old font. Unfortunately the photograph I have been sent is not great, but it gives you an idea of how they looked. It was hard work making 350 cake pops in two days, but very satisfying, and it's great to see them all in situ.