Things have been a little busy around here lately and I have something of a backlog in terms of pictures to post on the blog. I will begin with this one, a birthday cake for a Muppet Show fan, but then who doesn't love the Muppets?
I started by making Animal, as I thought he would be the trickiest of the four characters. My husband, who is normally quite disinterested in anything to do with cake, took notice of this one and even took a few pictures of Animal taking shape. He mentioned taking more pictures the next day, of Kermit, Miss Piggy and Fozzie Bear coming to life, but unfortunately his interest had waned by then.
As predicted, Animal was a tricky little so and so, but aside from losing a little hair here and there, he turned out OK.
I used Rice Krispie Squares to make my drum kit. They are lighter than solid sugarpaste and don't need much time to dry out as there is only a single layer of sugarpaste to cover the Rice Krispie Cakes. They do need to be squeezed a bit before shaping to crush the Rice Krispies and get rid of the lumps and bumps, but this was the first time I had used them and they worked out well.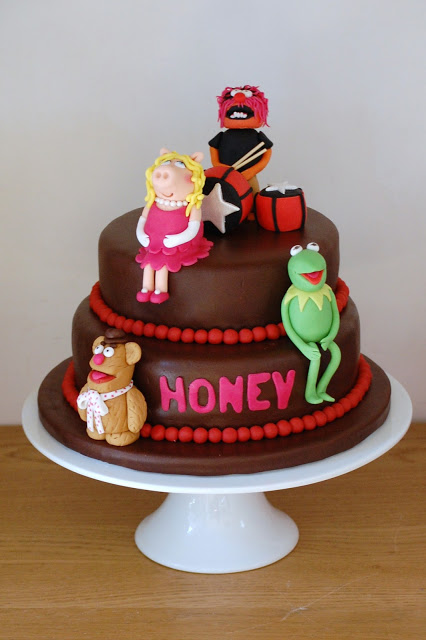 This cake was great fun to make, and I hope I get the chance to do another one. Fingers crossed that no-one asks for Gonzo though!