This is my take on a simple coffee sponge cake. I have swapped the traditional walnuts for ground almonds, and added a layer of blackcurrant jam alongside the coffee buttercream. Almonds and coffee are a great pairing, and the ground almonds help to give this cake a lovely moist texture. The blackcurrant jam gives an extra, fruity flavour and adds a bit of colour to the cake as well.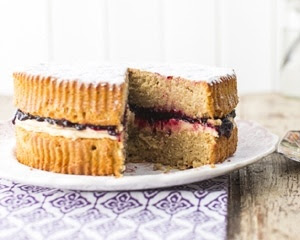 Photograph by Sharron Gibson
This is one of the recipes I wrote for the Good Food Channel website. You can click here to see the recipe in full.